Hello :)
On 2010 KBS Entertainment Award that is held on the 25th, singer Lee Seung Gi won the "Best Excellence Show Male MC Award" because of his participation in KBS 2tv"Happy Sunday-1Night 2Days". As both singer and actor, he is now also recognized as an entertainer.On 2009 SBS Entertainment Award, he is voted by netizens and won the "Popularity Award". After one year, he received the "Most excellent/Best " title and stands out among other entertainers.
The reason why he is able to win this award is not just because of his participation in 1Night 2Days, it's because he deserves to win this award. Lee Seung Gi, the youngest brother/magnae in 1Night 2Days receives the audience love as the 'first class hero' role.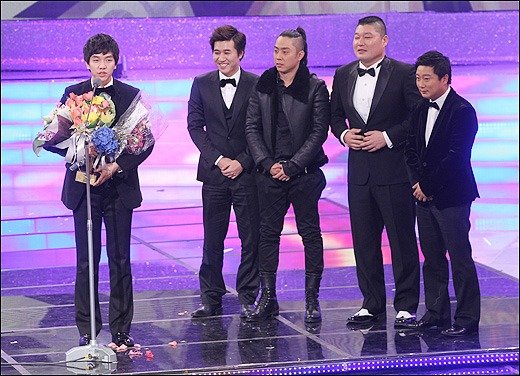 Although he has a "Heo dang" personality that is different from his handsome and soft look/appearance, but his intention to do the best in everything has been a big appeal to the viewers.
No matter it is bokbulbok, morning mission or other things, he also does his best. This makes the show to receive good feedbacks from viewers. Sometimes, he will use Ho Dong to make jokes and this let us see through "entertainer" Lee Seung Gi. Besides winning awards on the 25th, the chance for him to win awards at 2010 SBS Entertainment Awards is also high. Strong Heart that is hosted by Seung Gi and Ho Dong remains at no.1 position among the other variety shows which are aired on Tuesday night.
It has also obtained rating of almost 20%. Lee Seung Gi released his first album "Dream of a Moth" at 2004. After 6 years, he is active in the entertainment world as an actor, singer and entertainer. His 'dream' is becoming true one by one.
His career is starting to open its shining/brilliant/beautiful wings.
eng trans cheongyp at Msia Airen GB based on chinese trans from china cafe
OPPA CHUKAHAMNIDA <3